Welcome to PulseFest!!!
PulseFest is meant to introduce our radio station at a new and exciting arts and music festival in the Tulsa area. We'd like to arrange to have bands that perform the music that we'd play on our radio station to play for live crowds while we get the message out that there's a new player in town, and everybody should be introduced!
In subsequent years, we should also have high visibility during Mayfest, the art and street fair in downtown Tulsa.
Cain's Ballroom was once known as the "Carnegie Hall of Western Swing." Maybe we could center there?
Requirements:
Pairing with a downtown club and possibly a blocked off street section, near our downtown studio, holding 3000 to 6000 people. Opportunity for live broadcasting on an on-going basis.
Week long festival of music, food, dance, and art making. Try to get people involved in art making.
Best to hold this fest in early fall, after school at UT has started, to reach as many new and young people as possible. Also, there will be cooler weather in the fall.
Free tickets to be given away over the air, with some reserved for merchants. Call in to win!!! Special VIP access for some lucky grand prize winner!
Food trucks (A Taste of Tulsa!) on the grounds, we can make some money selling opportunities for these food trucks to locate at our festival
We'll take a bath the first year, as we'll be giving away most of the tickets. However, if we can make this an annual thing, we might eventually make money as Non-Traditional Revenue for the station
What to do the rest of the year?
We plan on an introductiory billboard campaign with Gordon Outdoor Advertising - currently in negotiations to determine number, schedule, and placement of appropriate outdoor advertising.
Building monthly campaign with Pulse gif slowly changing and revealing station info on high traffic boards on major freeway inputs to town. Pulse gif with Slogans:
Can you feel it?
Take your pulse...
The Pulse of Tulsa...
KTUS 94.7, the Pulse of Tulsa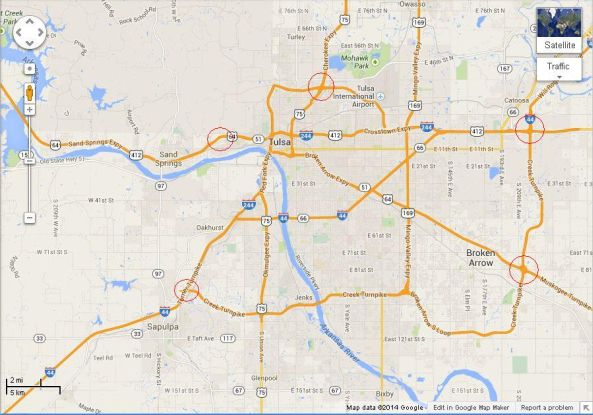 Advertising opportunities on taxis, busses, local haul delivery vehicles, near-airport van fleets
Chalk impressions of the Pulse graphic. Take your picture by the pulse and send it to us to enter a drawing.
Bumper Stickers - If the KTUS party van pulls you over, you win a hundred bucks!
When you hear the tune that pays you, be the 947th texter to win a hundred bucks!
Stump the Producer, win a prize