We had dinner and chatted some more, and stopped by a chocolate place on the way back to the ferry. The boat returned us to the dock that we had boarded from, but it wasn't really close to where we were living at the time, so we boarded another ferry, and hit all the small stops along the Sydney harborfront on the way to where we wanted to go. One of those stops was at the amusement park on the waterfront, called, what else? but Luna Park. For a Friday night, it didn't look like there was a lot going on. We got off the boat at our dock stop, made one last pass through the shopping mall, and then back to our hotel. An early checkout beckoned.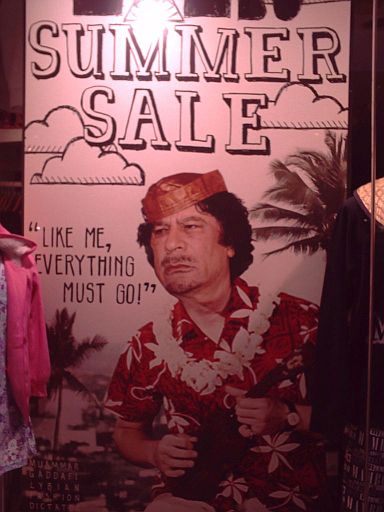 Not really a ukulele joke, but Gaddafi must go!
I continued my tradition of getting injured in Australia, this time by simply loading baggage into the taxi. There was something sharp on one of the wheels on one of the bags, and I punctured my finger. Tipping is not really heard of in Australia, but I gave the driver a few extra bucks, as he said that he was going to have to wash the cab because I bled on it. That probably wasn't quite true, but what the heck.
Our flight out of Sydney was switched to a different airplane, the scheduled one needing some sort of maintenance. I didn't mind. After all, you can't very well fix the airplane in the air over the mid-Pacific in the dark, so I'd rather have a plane that was properly maintained before it took off. That, and they gave us each 30$ vouchers for use in the airport food courts. We said a tearful goodbye to the adult Jones', as they were leaving from the domestic terminal, and we found ourselves with some time on our hands. We found an observation deck, but it was obnoxiously loud, being open to the air, the runway, and the baggage trucks. We didn't stay there long. We spent one of the vouchers getting some very unsatisfying Italian "like" food, and then we split up, with C watching the luggage while I went duty free shopping. Stuart had told me that we made our duty free purchases which were handed to us upon arrival at our destination. This was not true. Our purchases were handed to us, and off we went. I had wanted to get a bottle of Bundaberg rum, made from the sugar cane we saw in Queensland, and I wanted to get a bottle of scotch for C's mom, who had been watching the cats in our absence. It was obvious that I wasn't from around there, as the clerk asked where I was flying to. Upon being informed that I was flying into America, I was told that customs would only allow 1 liter of spirits per adult into the country. Damn! So I put the scotch back, and bought the rum. It rode in my carry-on luggage on the way back. I could have gotten one of the small bottles and consumed it on the ride. It would have been quite a party. The kicker of all this was that I was never asked or searched at the other end for any quantity of alcohol, so I could have bought the scotch after all!
This was also when I found out that outgoing customs would only give refunds if you could produce the goods you had bought. C had packed all but the expensive opal, so I couldn't get a refund on the stone that I bought for myself. I was only out about 12$, but coupled with the impatience that I had suffered through for the last few weeks on her account, I then took my own 30$ voucher and sat at the oyster bar, getting three raw ones and two glasses of sparkling wine. And I enjoyed them too, despite my guilt for doing so.
Did I mention that it's a long way to Australia? Well, it's a long way back too. I went to the lav in the dark of the night, only to see that somebody had gotten sick in one of the sinks. Why can't people throw up in the toilet where it can properly and easily be disposed of? Instead, some poor schmuck had to go and wipe up the mess. The attendant was none too pleased, and declared that it was a job that would require gloves...
The plane landed at San Francisco, and while we waited for the rest of the plane to disembark (we were in the very back. Again!), I chatted up the attendant there about their opinions of Boeing vs. Airbus planes. The consensus of the two that I talked to was that, while they preferred the location of the Airbus crew rest quarters, being near the center of the aircraft and therefore being less subject to being tossed out of their bunk, they actually preferred Boeing airplanes. One of them said that the 747 was a creaky old bastard, but they had more confidence in it actually making it to its intended destination.
The Southwest Airline gates in San Francisco were quite crowded. It turns out that this was the day of the 737 that had decided to go convertible, and many planes in their fleet had been taken out of service for a quick inspection. We flew on Alaska, so we weren't affected, but our flight was still full. I actually had a great seat that allowed my legs to extend out, and I fell asleep with my head against the bulkhead. This is not recommended, as it twisted my head to the side, and threatened to stick that way. We arrived at Sea-Tac, and I had to dig my sweater out of my luggage. After a month in Paradise, it was fricking cold. Between the climate change and the possibility of a carrier on the flight, C and I have both come down with flu / cold like symptoms. We can't seem to get out of bed before noon, or sleep well once we get in. This has been a real problem, what with my returning to work and all. As tired as we were in week three, we're ready to ditch our current life and go back forever, venomous butterflies or no.
Thus endith the story.
Or does it? Continue to The Great Australian Adventure, a query...